Update on Kilkeaskin Molly
05-March-2021
05-March-2021 14:37
in General
by Admin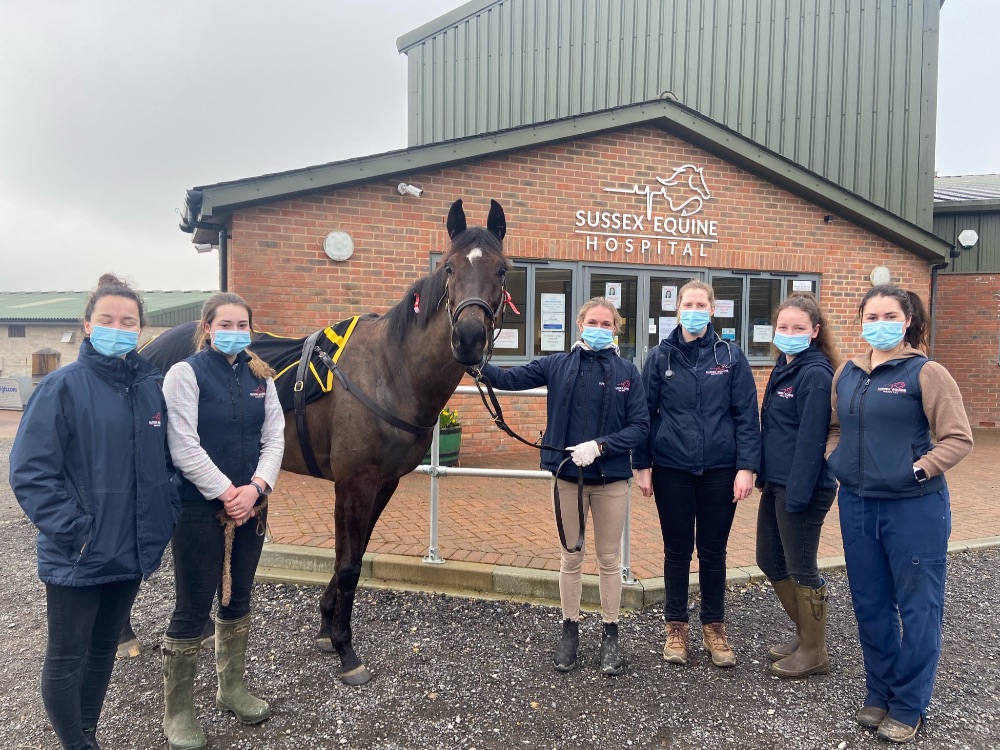 I would like to say many thank yous. Dear Kilkeaskin Molly ran at Plumpton racecourse on Monday, with Tom Scudamore on board, we felt she would run well. She was only in 2nd gear when maybe she became unsighted at a hurdle and came down very heavily, bringing down another horse that completely wiped her out on the floor. I did not think she would get up. I, and Georgia (who works for us) ran down to her, we must have been there within 2 minutes by which time the vets from Sussex Equine Hospital were already holding her and she was sedated. I watch a lot of rugby; you see the medics run onto the pitch to treat a stricken player in seconds – well these racecourse vets are matching them with their level of outstanding care in a crisis.
It looked really bad, I thought she may need to be put down there and then. The vets assessed her to make sure she was able to travel in the horse ambulance to the racecourse veterinary box, whereby more assessment was done including some neurological tests. From there we transported her to the Sussex Equine Hospital where she had a number of x-rays. She was put on a drip; hand fed during the night and was comfortably eating by the morning. Luckily there were no fractures seen on Monday night but with all the inflammation the view was somewhat clouded.
Molly is beautiful, inside & out. She is gentle, kind and loves to please. She is always happy to see us on the yard in the morning so it was very sad not to see her head over the door on the yard the next day. She is a mare who tries very hard in her work at home and in her races, despite struggling when she comes into season sometimes. She is just so generous and giving, she didn't deserve this. I can't help feeling somewhat responsible – we walked the whole course, checking the ground and asked about six jockeys who had ridden what the ground was like and they all said it was good, which was why we ran. She did her grid work two days before her race and all went well. You can only do all you can do; I will always do everything within our powers for it not to happen.
Thank you Georgia, for looking after her so well, to all the Sussex Equine Hospital vets and staff who attended to her and to Plumpton Racecourse, you were outstanding. All the people who have contacted us to find out how she is, thank you.
We are delighted to say that Molly had surprised the vets and recovered very well; we are hoping it is soft tissue damage but this will be confirmed in 14 days' time when we re-x-ray. She was well enough on Wednesday for us to be able to pick her up and bring her home. We will be doing all we can for her and make sure she sees the right specialist for this type of injury. She is now happily out in a small paddock at home enjoying the new grass coming through.
I just thought the care she received from the time she stood up after her fall to the time we picked her up was outstanding and should be told. The care is right up there with anything we get ourselves.