Schooling a racehorse (Big Tree) over an obstacle
15-February-2021
15-February-2021 14:55
in General
by Admin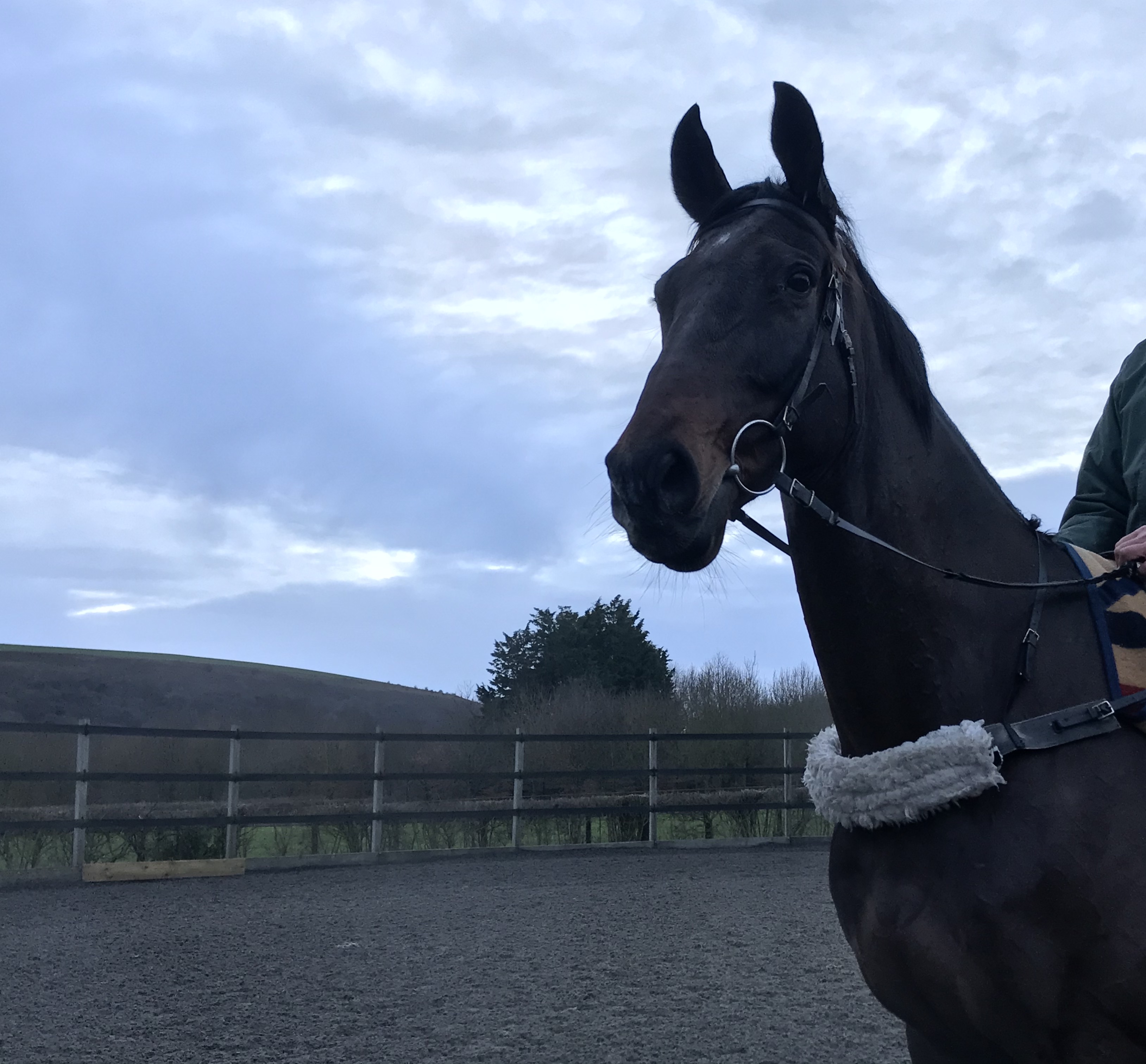 I really enjoy schooling the racehorses. I love to see them make mistakes, to learn on their own and not always rely on listening to the rider but to think for themselves. I feel a decent schooling session is one when poles have been knocked down and a lesson has been learnt. I always believe that a horse knows much more than a jockey in what to do going into an obstacle and how to get to the other side safely, especially so, once they are educated at home to think for themselves.
It is a riders' instinct to organise a horse going into a jump, making split second decisions, be it increasing the speed to take off on a long stride and asking them up or slowing and shortening the stride for take-off. Sometimes it is very hard to just sit still. Preparation for a jump should be done many strides out from the obstacle with a balanced horse with decent impulsion and then, by the time you get to the jump everything should take care of itself and the rider shouldn't have to do anything. Sometimes I find it is hard to sit still and it is something I am continually working on.
I used to love watching Ruby Walsh ride, especially at the beginning of the race. It would be as if the horse is jumping loose (without a rider) and then, when the horse was warmed up later on in the race he would be very subtle in the questions he asked the horse and rarely would he get it wrong.
I thought Bryony Frost's ride on Frodon to win the King George Chase on Boxing Day was a great example of this. She was very subtle and in perfect union with the horse – there was no indecision at all from the horse or the rider.
In this video I am trying to get Big Tree to think for himself. He is a sensitive horse, I felt what we were doing was the easiest, less stressful way to achieve our objective. Trotting in to begin with so he is really having to engage his brain with his feet and think about what he is doing. I loved it when he didn't quite get things right and knocked the poles down, he never made a mistake again after that. A decent schooling session should be when a horse is tested and things are learnt; the last few jumps at the end of this video are very impressive as he was putting himself right on his own accord.
Big Tree's jumping was very impressive, with a bit of daylight between him and the hurdle. He really filled me with confidence before his run and I felt that he won't really come into himself until he goes over fences. He never put a foot wrong in his race which was on terrible gluey ground that he hated so he was unable to run to his full potential. We can't wait now for better ground and to go over fences where I am sure we will see a better horse. It was great to have Zac Baker ride him. Zac is such a good horseman as well as a good communicator. He spoke very well after the race and gave him a super ride.
Unfortunately, the following morning after the race he had a swollen front leg and there was a bit of hair taken off the side of his tendon where he had received a knock. It was either his hind foot coming through and banging his tendon (in which case we are very pleased he had no shoes on otherwise it could have been much worse) or three hurdles from home it looks as if the top bar broke on the hurdle that might have caught his leg.
We bought a new ice boot for cold therapy and along with a lot of cold hosing the inflammation has greatly reduced. We have had him scanned and all is fine so it was a lucky escape. Hopefully when he is back to racing the ground will be better for him. I can't wait to see him over fences - you can see the scope he has - I think he could jump a house!