New horsebox & new horses
19-April-2021
19-April-2021 14:22
in General
by Admin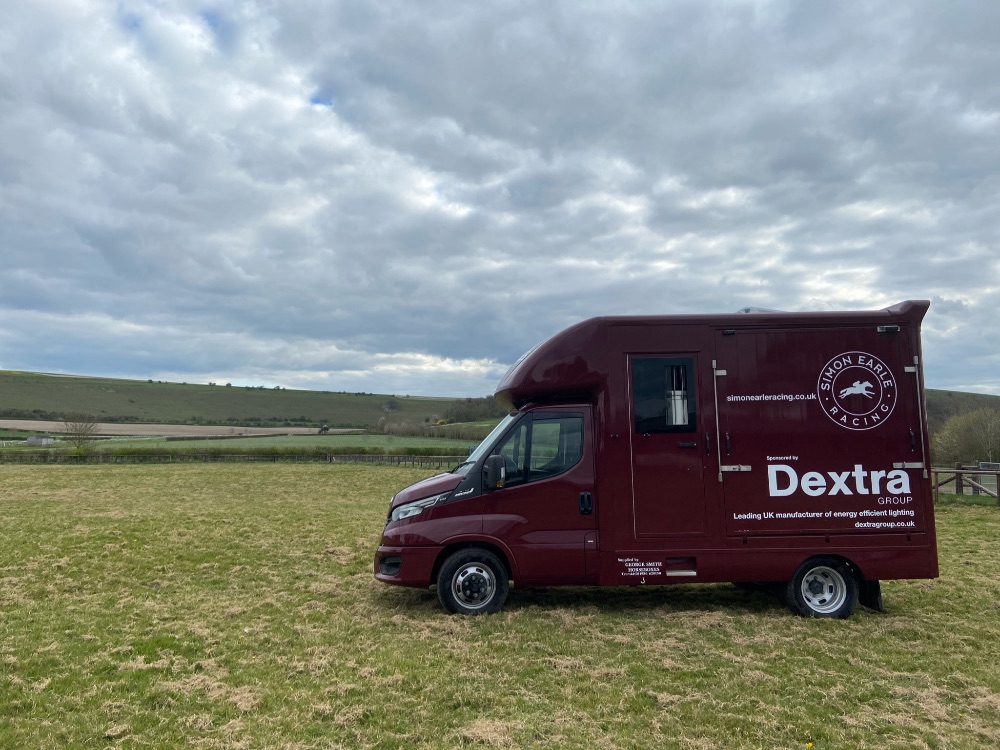 We are delighted to have received a brand new horsebox built by George Smith. It is an Iveco Daily automatic with 8 gears and I am amazed at how smooth it drives – you can't feel it change gear at all so it gives the racehorses a far superior ride. The horsebox is built on a very sturdy new Iveco chassis with four wheels at the back so it is designed to carry far more weight than 2.5 tonnes.
It has cruise-control, air conditioning and you can watch the horses all the time with a camera in the back and an easy to view display in the windscreen. You can also see the temperature in the back from the driving seat too. There is fantastic airflow for the horses, plenty of ventilation with a super fan which takes any steam off the horses very quickly.
There are multiple ways in which you can have the partitions depending on the requirements of the horses and how best they might travel. It can be opened up completely with no breast bar so it is like a mobile, padded stable (I think this suits most, bad travellers as they feel less confined and there is nothing to harm them at all, or get over).
We owe our thanks to Mr Rupert Martin who has kindly sponsored the box with Dextra Group plc and also to Lillycombe Sporting Club. Dextra Group is the largest privately owned luminaire manufacturer in the UK and has been manufacturing since 1978. The company is based locally, just down the road from the yard in Gillingham, Dorset, and is one of the West Countries' biggest employers. An incredible company that has seen a lot of changes over the years, and a few recessions, but has always continued to thrive. www.dextragroup.co.uk
Lillycombe Sporting Club is based on the Lillycombe Estate between Lynmouth and Porlock in Somerset, on the edge of Exmoor, right by the coast and comprises of 1000 acres. The Sporting Club was voted 'Guns On Pegs' favourite shoot for our nation. The Estate is run by Ian Baldock and is complemented by The Culbone Stables Inn and Lodge that is used for hospitality and has 10 bedrooms for B&B and dinner if required and is where the guns meet on the morning of the shoot. The Culbone will be re-opening on 4th June for bookings only as a restaurant with rooms. Both Lillycombe Estate and The Culbone are owned by Rupert Martin. www.lillycombesportingclub.co.uk / www.culbonestablesinn.co.uk
I am really pleased to have three or four orders to buy horses at the upcoming Goffs Store sales at Doncaster next month. The racehorses on offer at this sale are mostly unnamed 3 year olds which are jumping bred, so you would hope that you are getting a well bred animal without problems. This is a great opportunity to buy a horse, name it yourself, have it broken in by ourselves, educated in a really decent way without a rush that suits the horse and hopefully the end result would be that you have a racehorse forward enough to run after Christmas (and it will travel in luxury too!). I'm at the sales, and planning on seeing some before the sale too, so if anyone is interested in hearing more, get in touch tel: 07850 350116 and email: info@simonearleracing.co.uk