Unlocking potential
We concentrate on getting to know each horse as an individual, and we constantly analyse and assess their progress with no stone left unturned. Through working closely with our team of supporting practitioners, we are able to uncover hidden problems such as a source of pain, a behavioural issue, movement problem, previous injury, gastric ulcers, lack of muscle development or top-line, or an airway or respiratory problem...the list is extensive.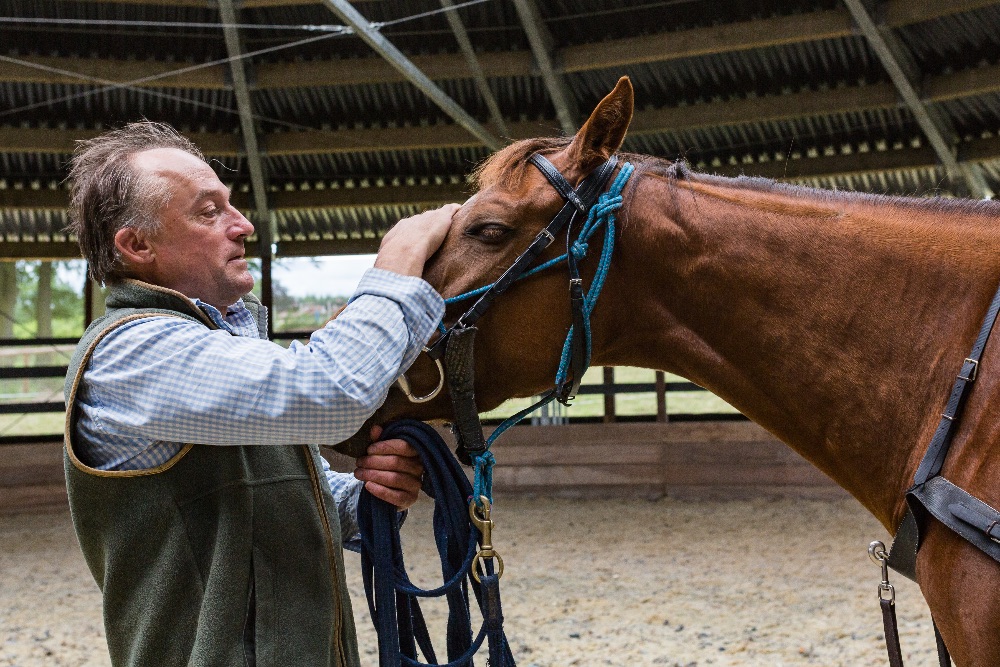 Improved welfare = improved performance
By implementing high levels of welfare, together with a varied training regime and a preventative approach, we find that every horse responds positively to its new environment at our yard.
It follows that this positive improvement at home translates into improved performances on the racecourse — many of our horses have bettered their previous levels of form since being in training at Simon Earle Racing.
Left: Headly's Bridge winning the Bathwick Tyres Handicap Chase at Exeter under Paddy Brennan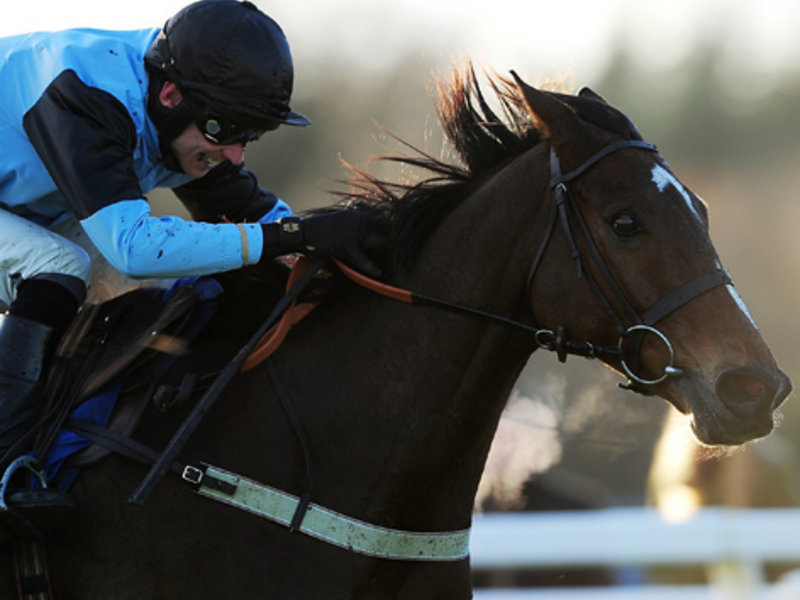 Some statistics
When Simon previously trained at The Beeches, 64% of the horses he trained finished in the first four places when they ran.
During that period training at The Beeches, 73% of the horses that were sent to Simon to train performed better than they had done with their previous trainers.
What was even more remarkable was that many of those horses had suffered a previous injury — typically a tendon injury — but they went on not only to improve on previous levels of form but to show a more consistent level of performance.
The table below highlights some of the horses Simon has trained that have improved on their previous levels of form.
Right: Red Not Blue winning the Worcester Festival Novices' Chase at Worcester under A P McCoy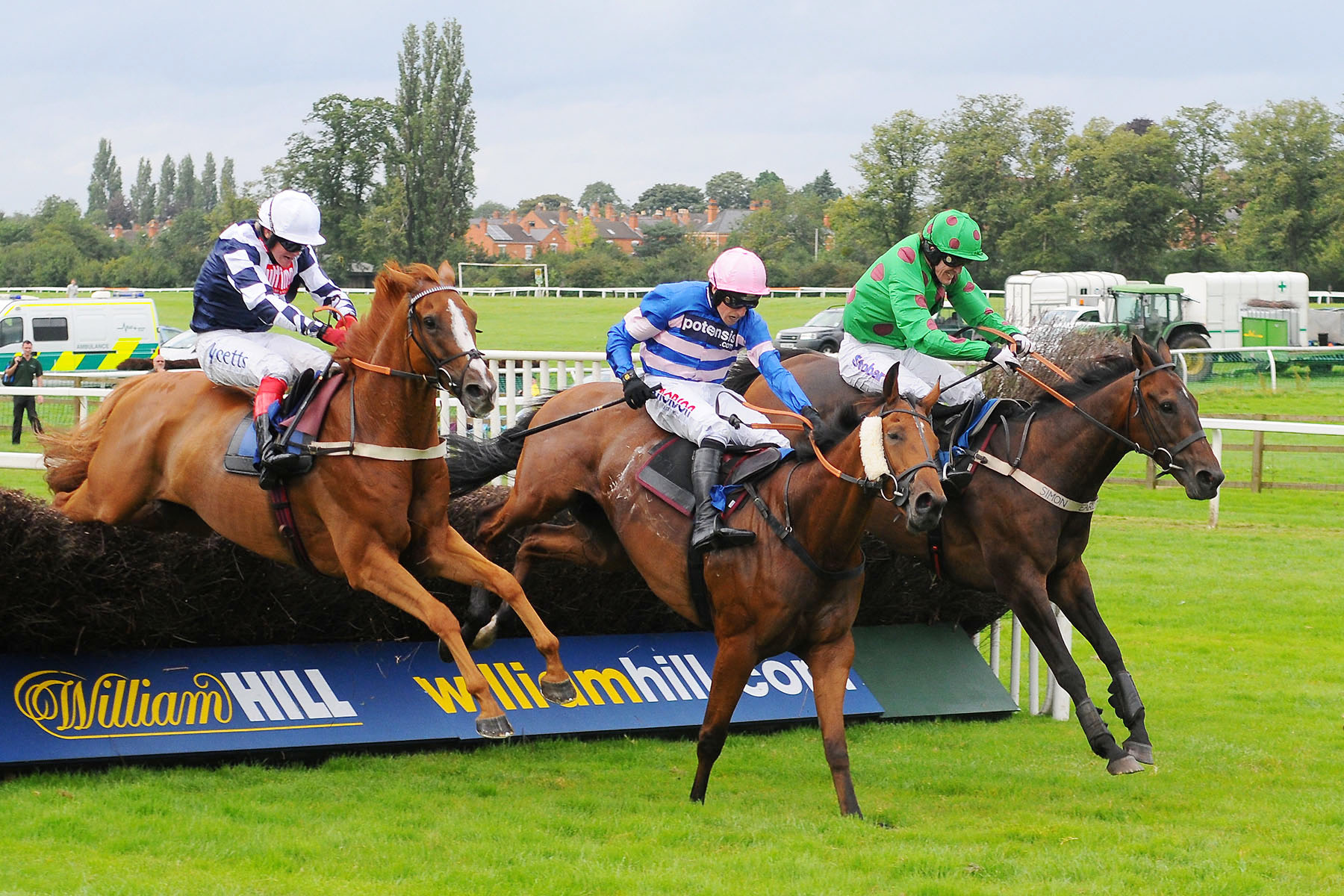 | | | |
| --- | --- | --- |
| Horse | The issue &/or approach taken | Impact on the racecourse |
| Dextra Dove | Dextra Dove arrived with bad feet and under-run, collapsed heels. We improved his feet and ran him over further. He won the Grade 2 Agfa Diamond Chase at Sandown and ran well for a long way in the Grand National. | He won six races and was placed twice out of 13 runs. He improved 23lb from his previous trainer. |
| Christchurch | Christchurch was bought for meat money from an abattoir in France and was in very poor condition when he first arrived. | He went on to win and be placed. |
| Cap Classique | Cap Classique had never run before joining Simon's yard as he was reluctant to go to the gallops with his previous trainer. | In three runs, he won and was placed 4th. |
| Mr Snaggle | This horse was so stressed at his previous yard that they tied him up 24hrs a day to stop him walking the box. We completely changed his routine, found what was triggering his stress and he relaxed completely. | He ran 39 times, won five times and was placed on 19 occasions. He improved 21lbs from his last run with his previous trainer. |
| Shady Deal | This horse was a sprinter that Simon bought very cheaply. | Shady Deal had one win and seven placed runs with Simon. From his last three runs with his previous trainer to his first three runs for Simon, his Racing Post rating improved by 29lbs. |
| Slipmatic | Slipmatic had broken down before she came to the yard. | After being retrained, she had one run, and won. She improved 13lbs on all previous levels of form after a break of 696 days off the racecourse. |
| Cloudy Sky | Cloudy Sky had been was with his previous trainer for two seasons but had not run. He came to our yard with tendon issues and was stressed. Simon retrained him. | He made all under Ruby Walsh on his first run over hurdles for Simon, and bolted up to win by 11 lengths. |
| Kavi | Kavi was sour with racing and jaded when he first arrived. He changed completely and loved everything we did with him, became a real character and a firm favourite on the yard. | Kavi had three wins and 11 places when he was trained by Simon. On Racing Post ratings he improved 27lbs on the flat and 16lbs over jumps from his previous trainer. |
| Monticelli | Monticelli had broken down before he came to the yard. | He won first time out for Simon after 548 days off the racecourse and improved on all previous levels of form from his previous trainer. |
| Saucy Night | Saucy looked poor and too light on arrival at the yard. He had also suffered a previous tendon injury, was stressed and swiftly diagnosed with gastric ulcers. He had very poor form on the racecourse. | He went on to run 22 times, won four and was placed 14 times. He improved 69lbs from his last rateable run with his previous trainer. |
| Tanzanite Dawn | She came with arthritic knees and was tailed off in her five previous runs. | She won twice and came 4th. She improved 33lbs from her last run with her previous trainer. |
| Red Not Blue | Red Not Blue was unraced when he arrived (having been in training for two years without a run), he had lots of physical issues and a bad attitude — in fact, his owners had been told to retire him as he wouldn't stick training. Simon called upon his great team of vets and physio many times to help solve the horse's problems and keep him in one piece. | Red Not Blue went on to run 36 times for Simon. He won nine races and was placed 12 times. He broke the track record at Southwell. He improved 51lbs over jumps while in training with Simon. |
| Headly's Bridge | As a three-year-old in Ireland, Headly's Bridge would hang off the track when racing on the flat going left-handed. Simon retrained him and adapted his training to manage his kissing spines. | He ran 30 times, with four wins, and was placed 16 times. He won at both right- and left-handed tracks, and improved 34lbs from his last run with his previous trainer. |
| Homer Run | He arrived looking light and with investigation Simon found that he had digestive problems. After sourcing the best advice Simon developed a diet that was tailored to suit him — he was on a completely different feed from the others horses with supplementation for his condition. | Homer Run won twice and was placed. He improved 16lbs from his previous trainer. |
| Kavanaghs Corner | He was very difficult to train when he first arrived as he spent most of the time on his hind legs. He also pulled too hard. Simon retrained him and taught him to settle in his work. | In his last nine runs, Kavanaghs Corner won twice and was in the money every other time. A consistent horse on heavy ground, he improved 12lb from his last run with his previous trainer |

Please note: calculation in improvement of form is mostly taken from Racing Post ratings (as The Racing Post rate each horse after it has run). Generally speaking 1lb in weight = 1 length in distance = approximately 3 metres.
""An extraordinary performance from Slipmatic who stayed on in most determined fashion considering her 696 day absence""
Racing Post re: Slipmatic
""Couldn't fail to be anything other than impressed by hurdle debutant""
Racing Post re: Cloudy Sky
""Preserved her unbeaten run for connections with a decisive success and had things under control by the final flight""
Racing Post re: Tanzanite Dawn
""Had never previously been placed. In the first two throughout she went on two out and had the race in the bag well before the last, she won easily""
Racing Post re: Tanzanite Dawn
""No hanging around in this open looking handicap but the race produced a clear cut winner, leaving his hurdle form behind and fairly bolted up on his chasing debut at Newbury""
Racing Post re: Headly's Bridge
""Training performance of the day...A competitive handicap, Monticelli had not seen a racecourse for 548 days but that did not stop him putting up a good performance for his new trainer. He showed a good turn of foot to clinch matters. He is capable of winning more races""
Racing Post re: Monticelli
""Turned a competitive looking handicap into a procession and this was a career best effort, maintained a decent gallop throughout and responded when Aheadofthistime ranged upsides four out to pull clear again""
Racing Post re: Saucy Night
""Connections feel Saucy Night has improved 50 lengths since shoes were dispensed with but the booking of AP McCoy also helped and he bolted in here""
Racing Post re: Saucy Night
""In form Kavi made amends for an unlucky run on Saturday, though he had to dig deep, he battled well to repel all comers""
Racing Post re: Kavi
""Ran without shoes [and] was a convincing winner and soon took charge in first outing in 7 months; could win again""
Racing Post re: Kavi
""He was hiked up 9lb for winning last month, but had set a course record that day and is evidently still improving""
Racing Post re: Red Not Blue
""Well backed in the morning this lightly raced 8 year old has done well with current trainer and can win again""
Racing Post re: Red Not Blue
""He picked up strongly for pressure 2f out and did enough to make a winning debut, he clearly has a future""
Racing Post re: Red Not Blue